EcoFlow Staff Discounts (EU)
Instructions to use Staff discounts:
1. Subscribe to eu.ecoflow.com with your staff email account (xxxxx@ecoflow.com) from "Subscribe Now" box at footer.
Subscription to EcoFlow newsletter is required to access coupons and become eligible to use the discounts.
2. You will receive notifications in an automation email after subscriptions to confirm access to staff discounts. 
You may check eligible products at https://eu.ecoflow.com/collections/staff-discounts. Eligible products include most products except (1) Products launched less than 3 months and (2) Promotional items.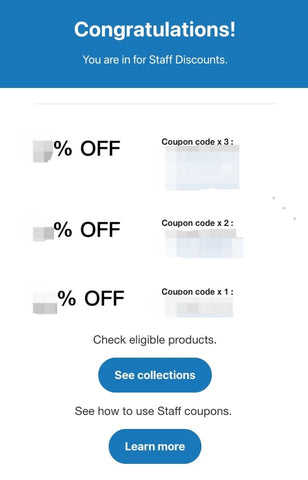 3. Apply the coupon code during checkout on eu.ecoflow.com to use the discounts.
4. Staff discount coupons only apply to purchases by your staff email. Please make sure you use your staff email account for checkout. 
Things to know before using Staff discounts:
1. Coupons only be applied to purchase on eu.ecoflow.com.
2. You may not combine discounts. You can only apply one coupon to an order. Each coupon can be used once only. Coupons will expire by 31st Dec, 2023. 
3. Coupons applies only to EU purchases. For other regional staff discounts, please contact respective Official website operators.
4. Discount percentage and availability are subject to change. Please refer to this page for the latest updates. 
5. If you have questions regarding EU Staff Discount coupon usage, please contact Patrick Chong via lark.