The most easy-to-use independent solar power system. Take it to camping, RV trips, or run your home essentials with it. Whether you are on the go or chilling at home, have stable, durable, and reliable energy on hand whenever you need. Join hands with us in this energy-sharing world and live green.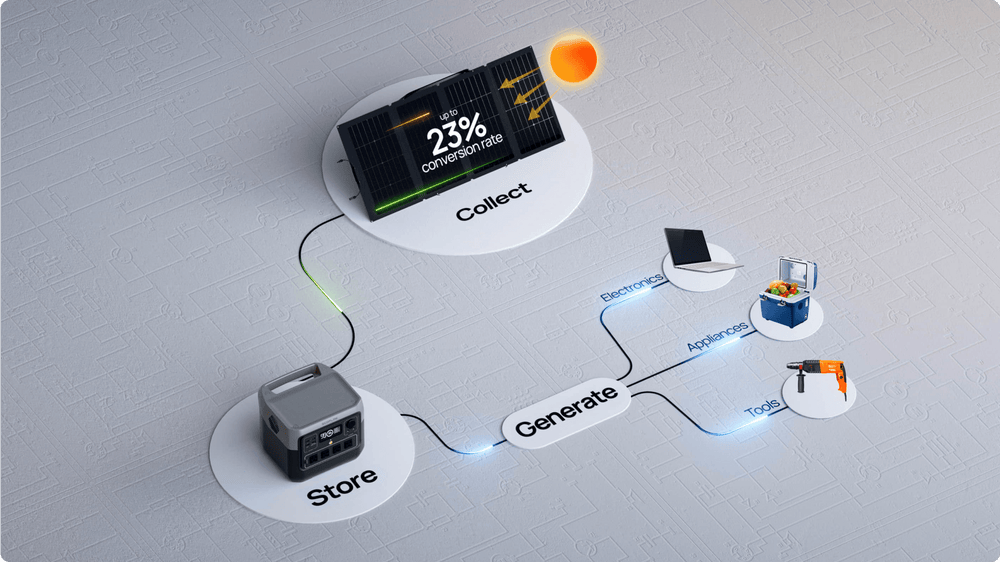 RIVER 2 Pro Solar Generator produces up to 1.8kWh daily, crank it up to 1600W with X-Boost mode, which means sufficient power to run your essential home appliances smoothly for almost half a day. Sudden power outages? You'll always be ready.

**Total Energy Consumption is for reference only, please refer to your actual daily electrical consumption.
Fastest charging speeds ever.
Ever worried about running out of power or annoyed by a sluggish recharge? Our MPPT algorithm monitors the voltage and current in real-time to give you optimum solar generation under varying conditions with over 98% efficiency, fully charge RIVER 2 Pro while you pack your bags, so you'll always be ready for a last-minute trip.
Getting blackout-ready is easier than ever with our solar generators' plug-and-play design. Once connected via Bluetooth or Wi-Fi, it can be managed on the EcoFlow app even from afar.
4 Ways to Charge
Charge anywhere.
With 4 different ways to top up the RIVER 2 Series, there's a recharge option no matter what. From fast AC to in-car charging when you're on the go.