EcoFlow DELTA 2 Max + 400W Portable Solar Panel
10-Year LFP Battery,
Built To Last 6× Longer.
Durable, Safe, Lightweight

With its upgraded LFP battery chemistry, DELTA 2 Max has a lifespan of 3000 complete cycles until it reduces to 80% capacity. You'll get pretty much 10 years of power, even if you use it every day.
LFP Battery Chemistry
That's 6x Longer Than Other Power Stations With A Similar Capacity And Output.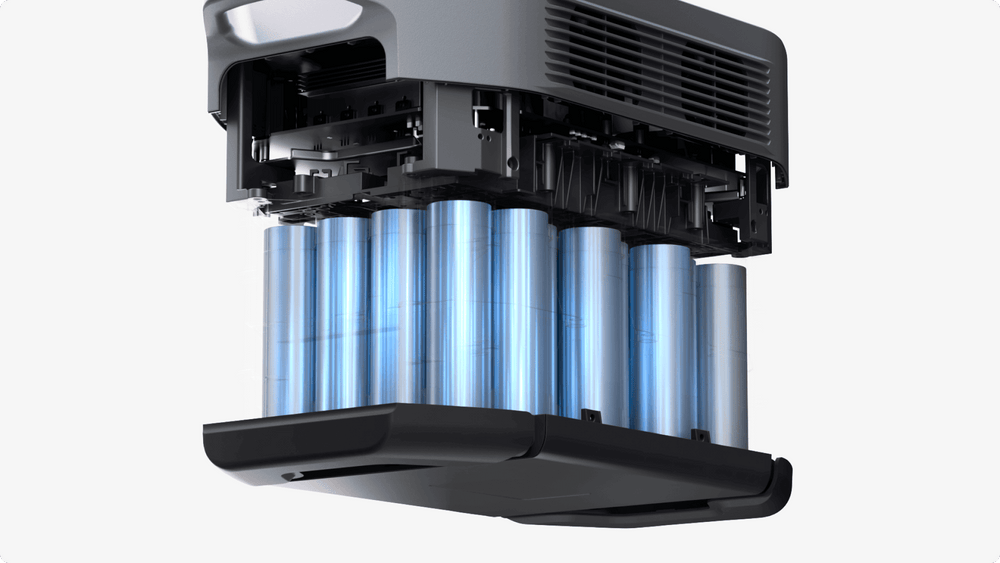 A built-in battery management system regulates vitals, including voltage, current, and temperature, keeping DELTA 2 Max safe, secure, and built to stand the test of time.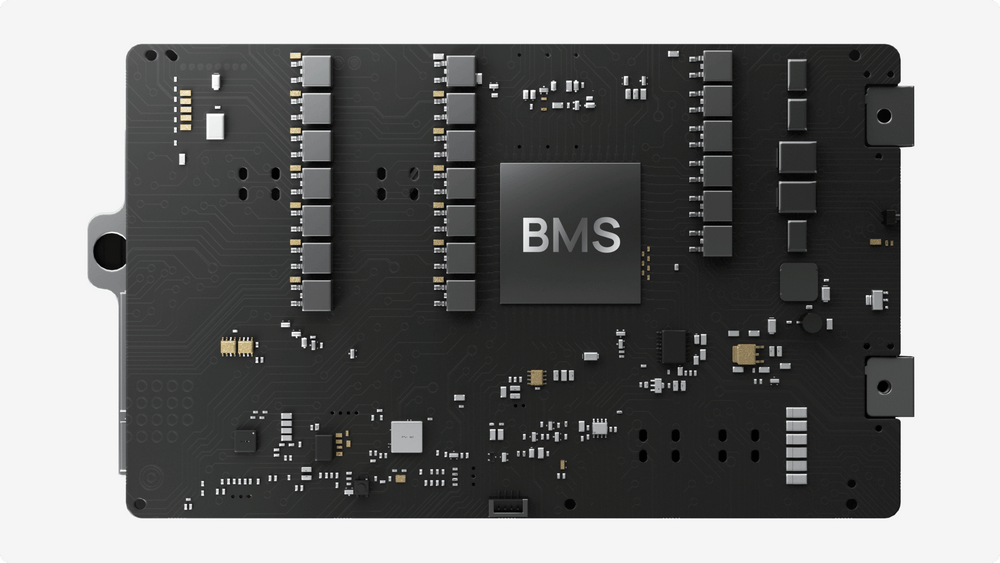 Protective Layers Inside And Out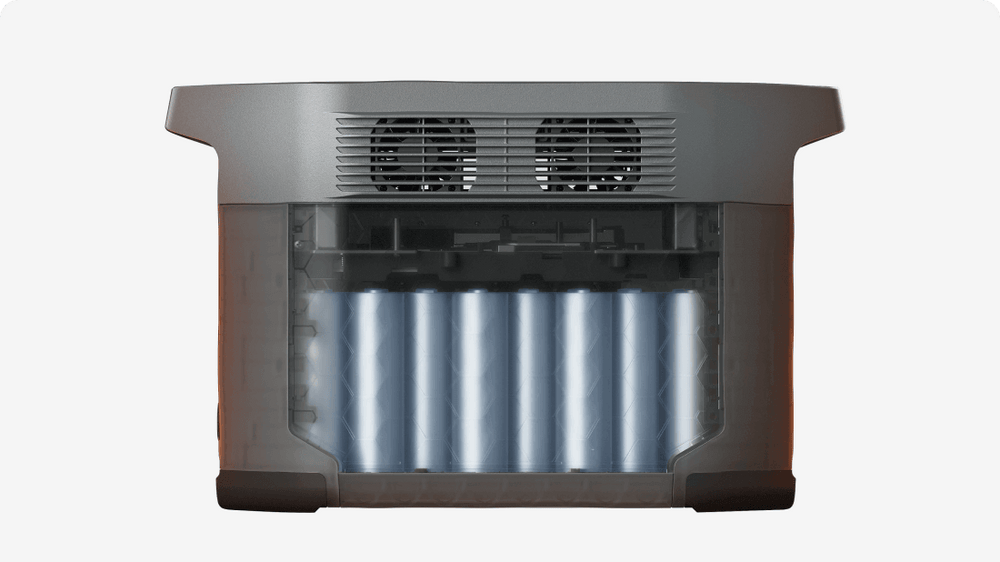 With LFP cells, DELTA 2 Max is safe, durable, and highly efficient.
A rubber anti-slip base and a highly-rated UL94-5VA fire-resistant casing offer multiple layers of protection.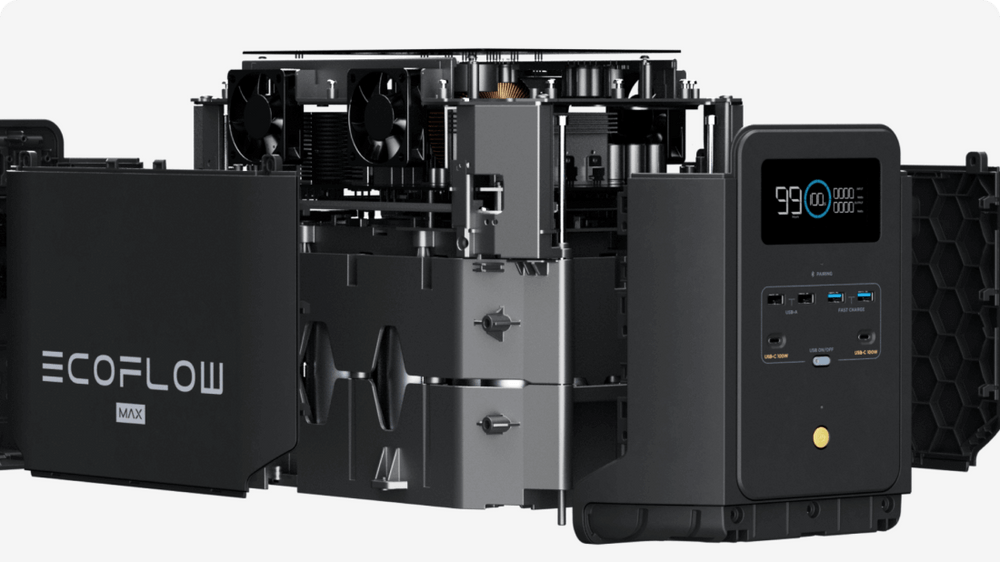 Made with a sturdy one-piece design, DELTA 2 Max is designed for the rough and tumble of portability. Each port is reinforced, protecting them against wear and tear.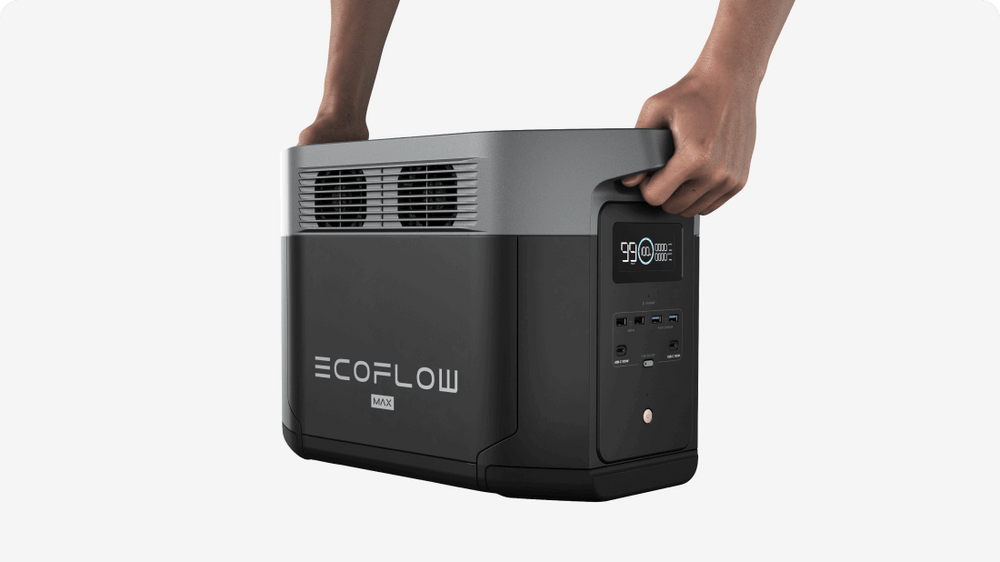 Upgraded Tech, Lighter
Weight
Even with its upgraded LFP battery, DELTA 2 Max is still 30% lighter than similar 2kWh LFP power stations on the market.
Run 99% of Appliances with X-Boost.
Power pretty much anything with up to 3100W Output

DELTA 2 Max powers almost all the devices you need with a large 2400W AC output. Plus, with X-Boost proprietary technology, run appliances with an output of up to 3100W. Compared with other power stations, DELTA 2 Max can power more devices, while still preventing overloading and overheating.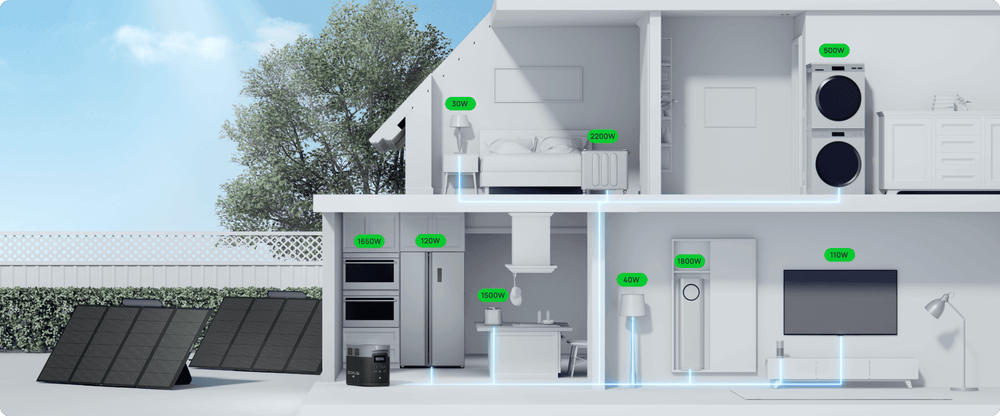 Experience the world's fastest 43 minute recharge.
80% in 43 Min*
With DELTA 2 Max's upgraded tech, combine up to 1000W solar input with AC for world-leading charging speeds. In only 43 min get an 80% charge. Or stick with AC for an 80% charge in a speedy 53 mins.

Solar+AC X-Stream Charging
0-80% in 43 min

AC X-Stream Charging
0-80% in 53 min

Solar Charging
Fully charge in 2.3 hours*

*When combined solar and AC input is 2400W.
**Based on using 1000W solar input in an ideal environment.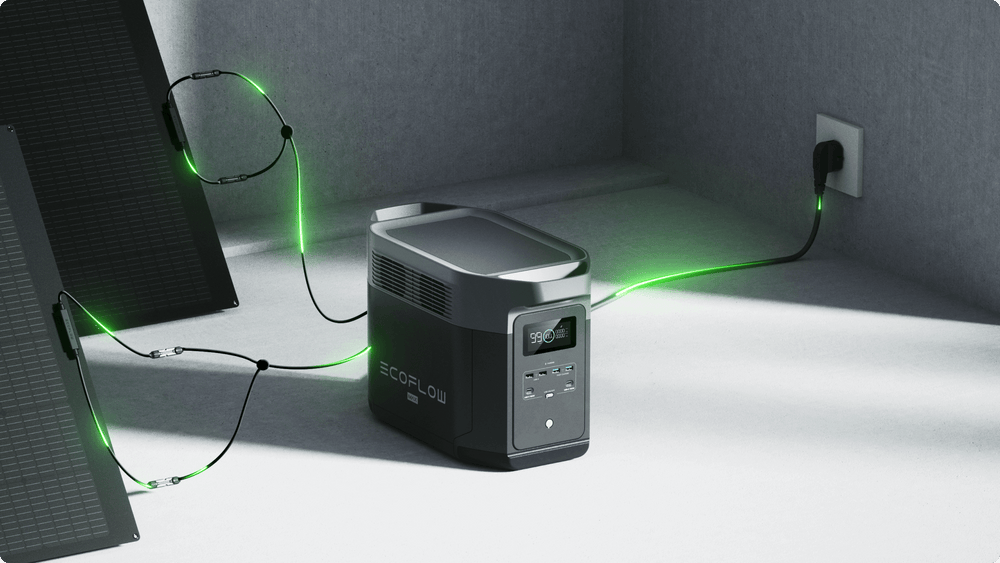 99% MPPT Efficiency
Maximise solar generation during daylight hours.

EcoFlow's smart (MPPT) algorithm automatically detects voltage and current in real time to give you optimum solar generation throughout the day, even during cold and cloudy days.
With a solar input of 1000W, connect up to 2 EcoFlow 400W Portable Solar Panels or 4 sets of 220W Bifacial Solar Panels.
Up to 1000W Input
Solar Charging Times
1000W
Charge in as fast as 2.3 hours
880W
Charge in as fast as 2.6 hours
800W
Charge in as fast as 2.8 hours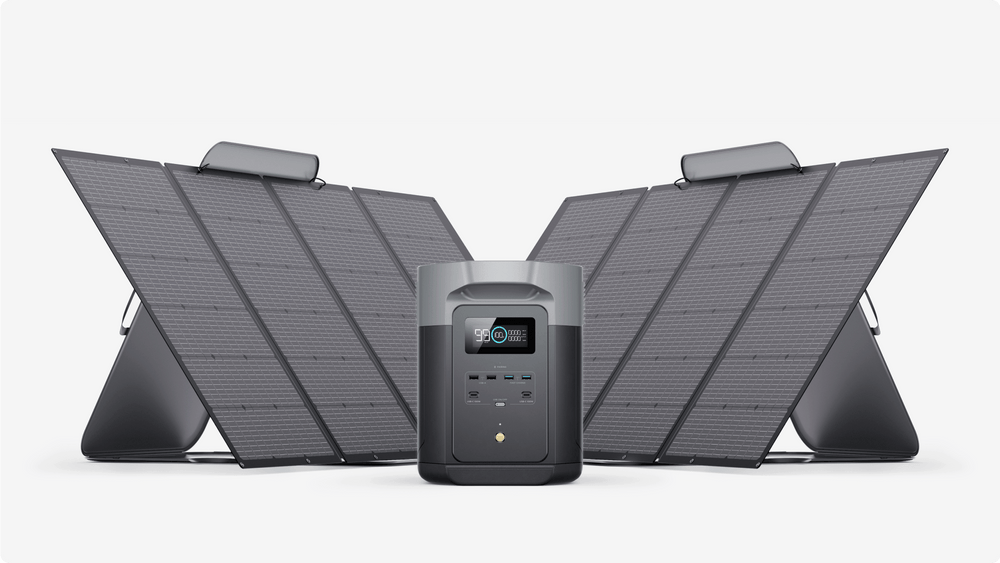 400W Portable Solar Panels
Our 400W portable solar panel offers high solar output, conversion efficiency rating, and a convenient folding design so it's ready to grab and go at any time.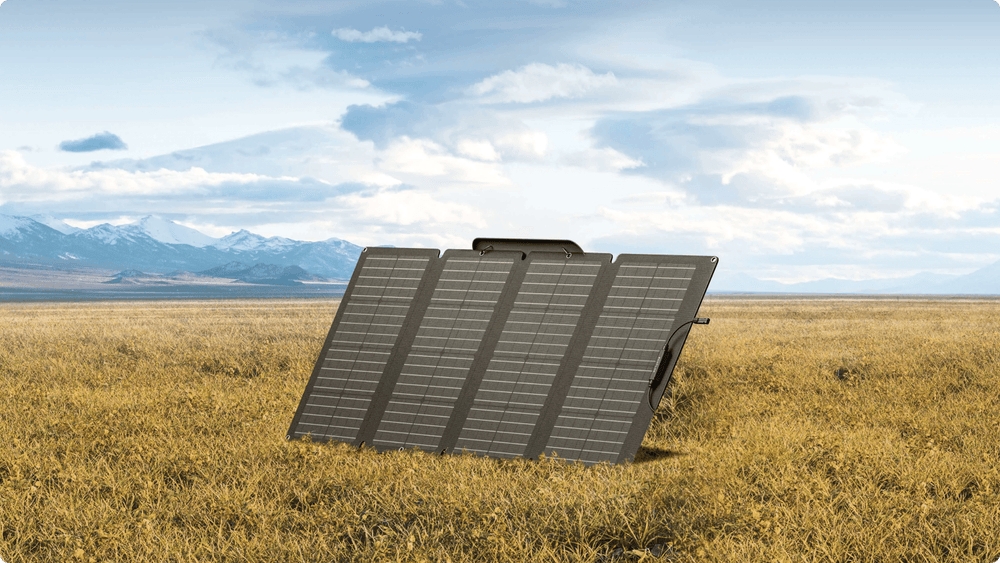 High Solar Output and a One-piece Folding Design
Charge faster, wherever you go.
A single portable solar panel with a unique folding design, our 400W portable solar panel combines powerful energy production with portability. To achieve a higher solar conversion efficiency of up to 23%, we use multi busbar monocrystalline cells, so you get even more energy to recharge your portable power station.
An Integrated, Self-supporting Stand
Optimize your energy.
EcoFlow's 400W portable solar panel comes complete with a protective case that doubles as a sturdy supporting stand. Simply set up your panel anywhere and conveniently adjust its angle to get the most sun possible.
Balancing Portability With Protection
Ready for the outdoors.
Made from durable and flexible materials, the portable solar panel is perfect for off-grid living and travel. Its multi-layered design offers high impact resistance for the rugged outdoors, while its 27.5 lb light-weight means effortless carrying to a campsite. A rigid layer embedded in the carry case protects the panel from overbending when you carry or store it.
IP68 Waterproof Rating
Built to weather the storm.
Our 400W portable solar panel can carry on collecting energy even during a downpour. With a protective ETFE film and a high IP resistance level of 68, the solar cells can withstand environments from humid and wet to dry and dusty.
A Compact, Space-Saving Design
Take solar power on the go.
EcoFlow's 400W portable solar panel is a camping or RV must-have. The compact design saves valuable space for your other travel essentials. When you're ready to head off on your next adventure, simply collapse the panel down to store in your van or car.
Expandable up to 6kWh
Triple the power.
Take DELTA 2 Max with you anywhere as a solo unit or connect it with two Extra Batteries for up to 6kWh of home backup.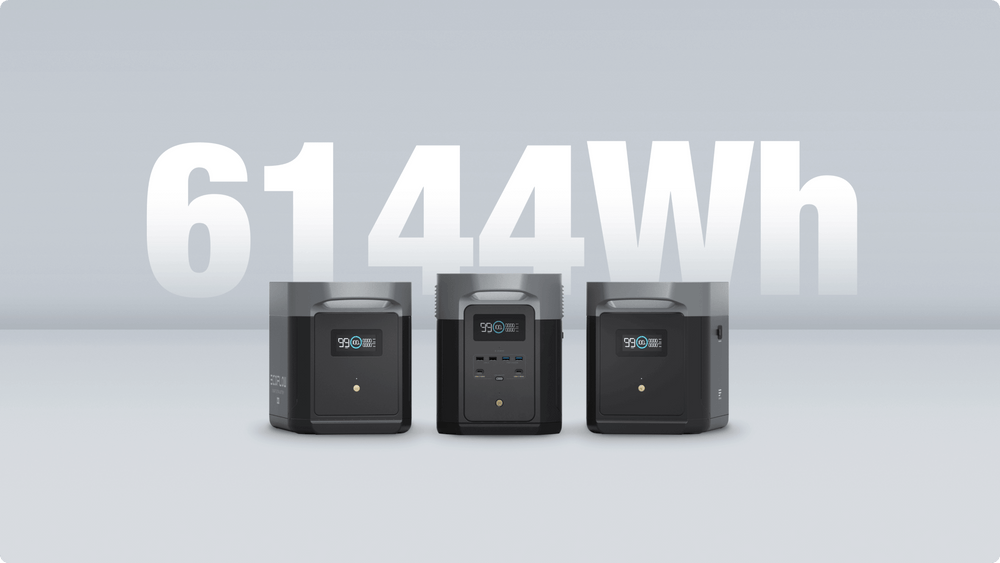 Customized In-App Energy Management
Take Control Of Your Power.
Customized In-App Energy Management
Take control of your power.
Customized In-App Energy Management
Take control of your power.
Customized In-App Energy Management
Take control of your power.
Smart Automatic Control
AC Always-on
Energy Management
Low Battery Reminder
Save more on electricity bills
Customize the working time of DELTA 2 Max to avoid peak rates.
Experience peace of mind during power cuts
With our all-new AC Always On Mode, the AC power button stays on, even during a power cut or after the grid power is back, keeping your appliances powered no matter what.
Easily adjust power
Easily adjust AC or Solar input to fit your needs: backup power reserve or energy savings. Prioritise solar energy input via the EcoFlow app when using X-Stream AC + solar dual charging.
Always power ready
Get a notification via the app when the battery hits a low.
Comprehensive warranties
With one of the most comprehensive warranties in the industry, we go the extra mile to give you peace of mind with 5 years for DELTA 2 Max and 24 months for 400W Solar Panel.
What's in the box - DELTA 2 Max
1.DELTA 2 Max 2.AC Charging Cable 3. Car Charging Cable 4. DC5521 to DC5525 Cable 5. User manual & Warranty card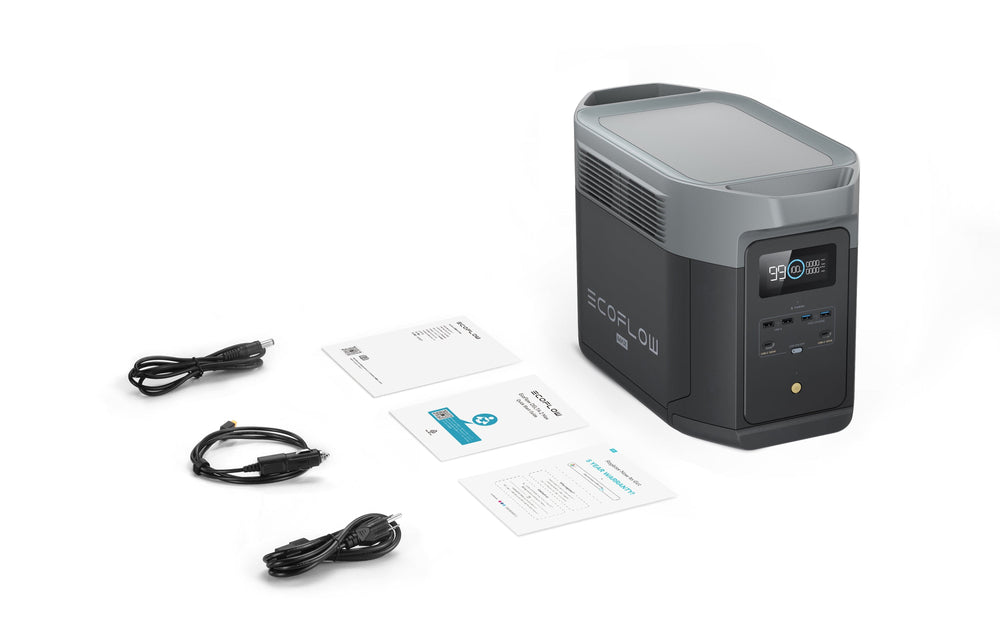 What's in the box - 400W Portable Solar Panel
1. 400W Solar Panel 2. Kickstand Case 3. Solar to XT60 Charging Cable 4. User Manual