EcoFlow DELTA 2 Solar Generator is a must-have for any home that puts power security & comfort first. Ensure you're prepared with the power station made for almost any situation your family could find themselves in. All while staying green.
Make it a triple.
Expand capacity.
With a capacity of 1kWh to start with, you've got enough energy for your essentials for hours on end. Need even more? Add on the DELTA 2 extra battery to reach 2048Wh, or add on the DELTA Max Extra Battery to hit 3040Wh. Great for home backup or everyday appliances.
Optimize your energy.
X-Stream tech means you can charge from 0%-80% in 50 mins,or 0-100% in 80 minutes with AC input, that's faster than you'll pack your trunk for the next road trip. Pair with solar panels and charge in as fast as 3-6 hours with 2 x 220W, 1 x 400W portable solar panels. With its MPPT (Maximum Power Point Tracking) smart algorithm, DELTA 2 can actively detect the voltage and current in real-time to reach the maximum power point with >98% efficiency.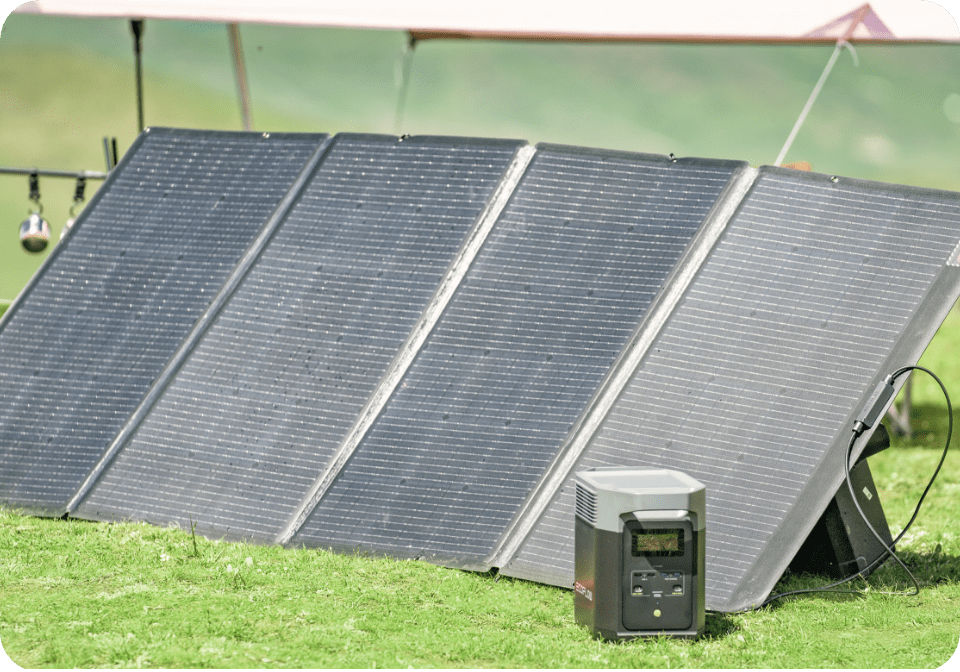 Charge faster,
wherever you go.
A single portable solar panel with a unique folding design, our 400W portable solar panel combines powerful energy production with portability. To achieve a higher solar conversion efficiency of up to 23%, we use multi busbar monocrystalline cells, so you get even more energy to recharge your portable power station.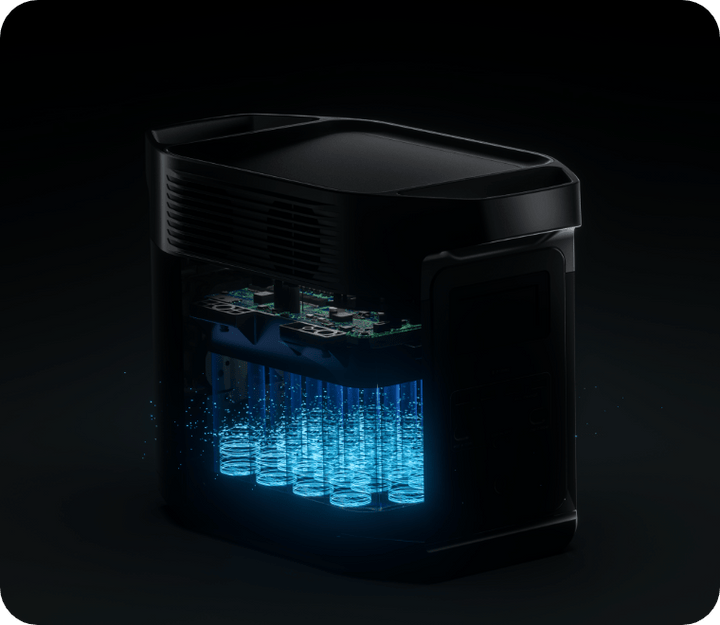 Built to last 6x longer.
3000+
Full charge and drain cycles
Finally… tech that's made to last. Get years of regular use until hitting 80% of its original capacity. That's down to its LiFePO4 battery chemistry giving you 3000+ full charge and drain cycles.
Power pretty much anything.
A 1800W AC output means you can power more than 90% of your home appliances. That's your microwave, fridge, or even coffee maker covered in a blackout. Or, try plugging in up to 15 devices at once for when you're around the table with the family. Unlike other brands, DELTA 2 can prevent overloading from devices up to 2200W thanks to X-Boost technology.
Control, monitor,
and manage your energy use.
Use the EcoFlow app to control your DELTA 2 from anywhere using Wi-Fi. Link with Bluetooth when off-grid. Either way, you can check charging data, customize settings and adjust the charging speed with ease.
Built to weather the storm.
Our 400W portable solar panel can carry on collecting energy even during a downpour. With a protective ETFE film and a high IP resistance level of 68, the solar cells can withstand environments from humid and wet to dry and dusty.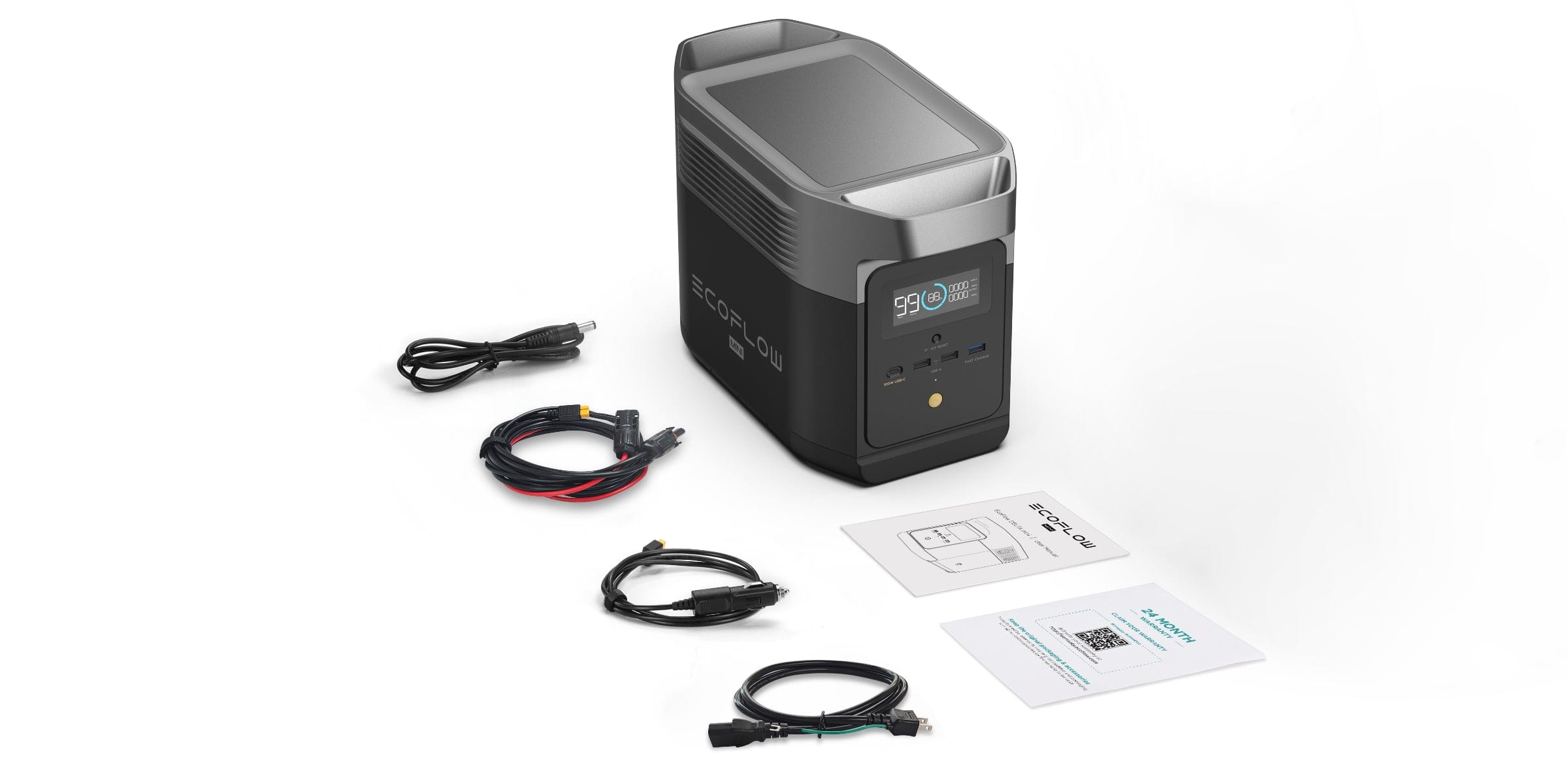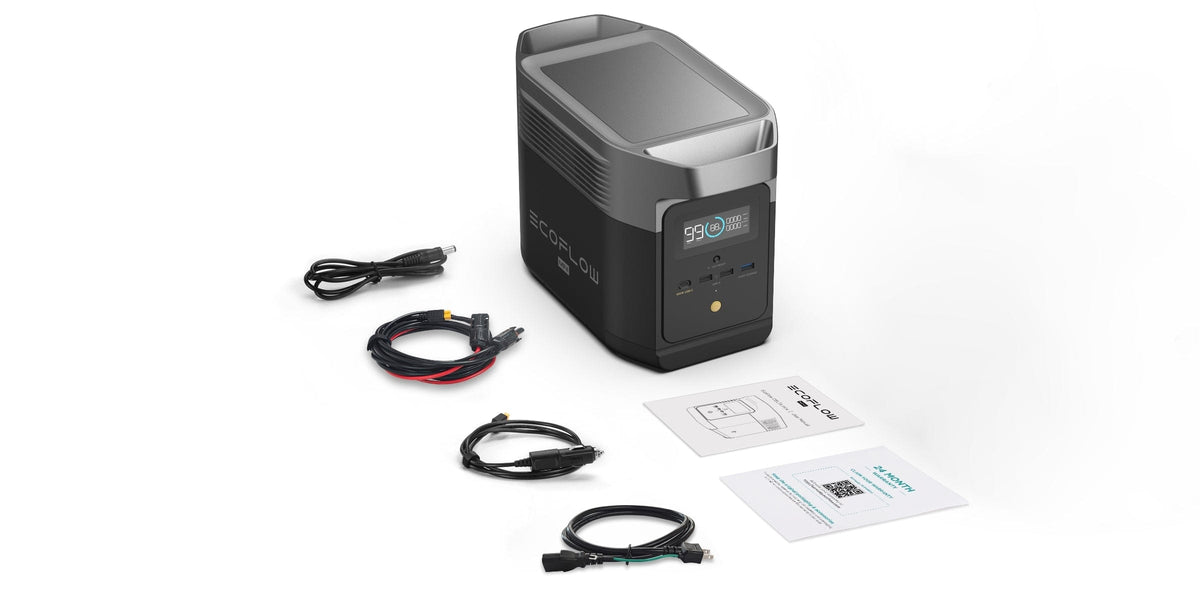 1. DELTA 2 2. AC charging cable 3. Car charging cable 4. DC5521 to DC5525 cable 5. User manual 6. App quick start guide 7. Warranty card
Extra Battery
Support one DELTA 2 extra battery or DELTA Max extra battery
AC Output
4 outlets, 1800W total (Surge 2700W)
Max Device(s) Power (with X-Boost)
2400W
USB-A Output
2 ports, 5V, 2.4A, 12W Max
USB-A Fast Charge
2 ports, 5V, 2.4A / 9V, 2A / 12V, 1.5A, 18W Max
USB-C Output
2 ports, 5/9/12/15/20V, 5A, 100W Max
Car Power Output
1 port, 12.6V, 10A, 126W Max
DC5521 Output
2 ports, 12.6V, 3A, 38W Max
Solar Charging
11-60V, 15A, 500W max
Car Charging
Support 12V/24V battery, 8A
Battery Chemistry
LFP (LiFePO4 battery)
Cycle life
3000 cycles to 80+% capacity
Connectivity
Wi-Fi & Bluetooth
Dimensions
15.7 x 8.3 x 11 in / 400 x 211 x 281 mm
Net Weight
27 lbs / 12 kg
Specs of 400W Solar Panel
Cell Type
Monocrystalline silicon
Dimensions
41.7*93.1*0.98 in (105.8*236.5*2.5cm)
Open Circuit Voltage
48V (Vmp 41V)
Short Circuit Current
11A (Imp 9.8A)
Weight (Solar Panel)
Approx. 35.3lbs (16.0Kg)
Weight (with Kickstand Case)
Approx. 41.9 (19kg)