An astonishing 10 days run time under GLACIER's Eco mode with EcoFlow DELTA Max 2000 and the Plug-in Battery connected! Fresh food and cold sodas within reach for more than 4 days. Whether you're in an SUV, pick-up truck, RV, or tent, you can never get hangry!
Industry's first integrated ice maker.
Equipped with a powerful 120W compressor, it brings you 18 solid ice cubes in 12 minutes*. For all the spine-tingling moments along your journey, spice them up with chilled sodas.

* The test result was gained with the ambient temperature of 25°C and water temperature of 15°C. The first round of ice making might take longer than 12 minutes.
A fridge-freezer at its best.
Equipped with a removable divider separating it into two zones, and independent temperature control,
both sections can refrigerate and freeze from 10°C to -25°C.
Steak, cheese, or soft drinks......whatever you want to stock up on, it shape-shifts to meet your needs.
The fastest cooling in the industry.
Cooling at the optimum speed when empty, GLACIER rapidly refrigerates from 30°C to 0°C in around 15 minutes.
Cooling for up to 40 hours wire-free.
Designed for absolute portability, GLACIER can be powered by the Plug-in Battery* and free from messy, limiting cables.
With a large battery capacity of 298Wh, savor up to 40 hours* of easy access to frozen meals, fresh fruit, and ice-cold beverages.
* Plug-in Battery is sold separately.
* The test result was gained with the fridge empty, its temperature set to 39℉ (4°C), and the ambient temperature of 25°C.
Charge laptops and more on the go.
With 100W max USB-C charging, it even powers up your phones and laptops so you'll never lose touch with your loved ones.
Expandable home backup power.
A single DELTA Max unit packs a 2kWh capacity that is expandable up to 6kWh with DELTA Max smart extra batteries.
This means when a blackout hits, you can continue to power your important home devices such as your fridge and lights for hours on end.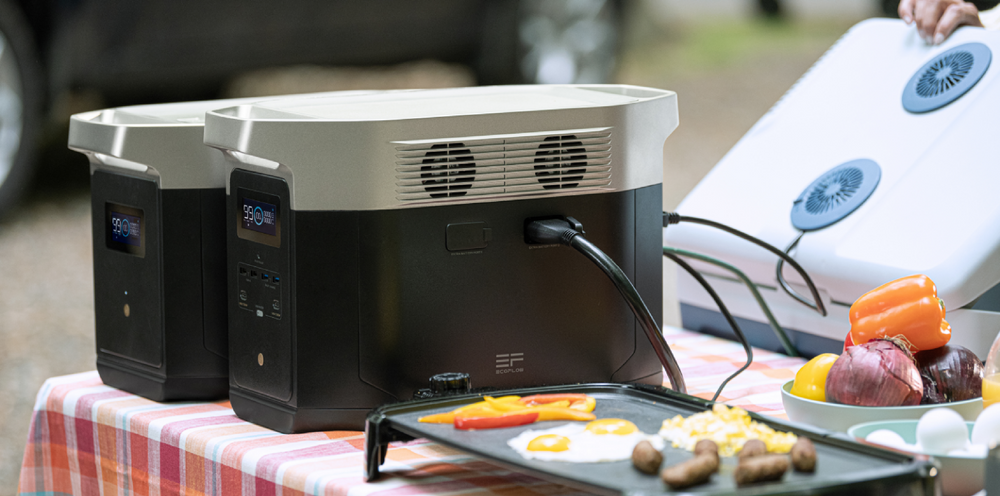 Convenient and fast dual charging.
DELTA Max charges up safely and rapidly from 0-80% in just 1 hour. And it gets even better. If you're looking for an even faster way to charge up DELTA Max, you can combine AC with the Smart Generator, AC with solar, or the Smart Generator with solar.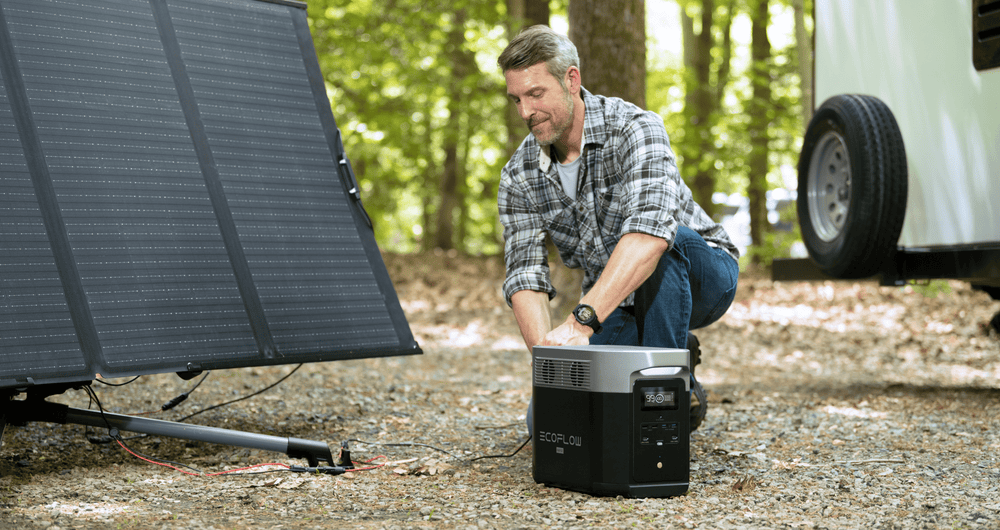 400W Portable Solar Panels
Our 400W portable solar panel offers high solar output, conversion efficiency rating,
and a convenient folding design so it's ready to grab and go at any time.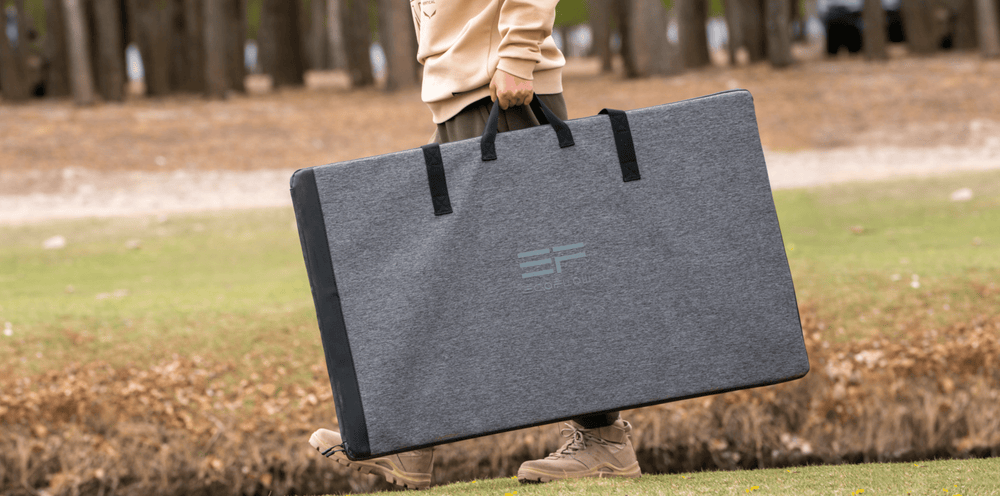 Charge faster,wherever you go.
A single solar panel with a unique folding design,our 400W solar panel combines powerful energy production with portability. To achieve a highersolar conversion efficiency of up to 23%, we use multi busbar monocrystalline cells, so you get evenmore energy to recharge your portable power.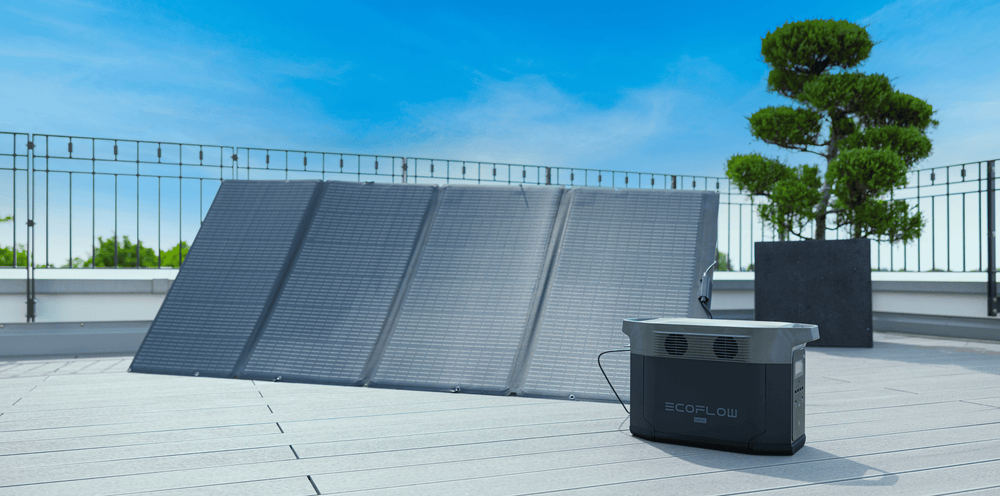 Specs of GLACIER
Operational Volume
Single zone: 38L (40 qt.); Dual zone: 36L (38 qt.)
Dimensions (wheels and handles not included)
Refrigeration Temperature Range
–25°C to 10°C (–13°F-50°F) (ambient temperature at 25°C)
Noise Level (stable operation)
Ice making: <52dB; Refrigeration: <42dB
Quick Freezing Mode (30℃ to 0℃)
Refrigeration Power Rating
Wi-Fi
This product supports 2.4G Wi-Fi only
Specs of DELTA Max 2000
Extra Battery
Support one DELTA Max battery or two DELTA Max battery
AC Output
Pure Sine Wave, 2400W total (surge 4600W), 230V~ (50Hz/60Hz)Max Device(s)
Power Supported by X-Boost
USB-A Output(×2)
5V 2.4A, 12W max, per port
USB-A Fast Charge (x2)
5V/2.4A, 9V/2A, 12V/1.5A, 18W
USB-C Output (x2)
5/9/12/15/20V 5A, 100W max
Cycle life
800 cycles to 80+% capacity
Specs of 400W portable solar panel
Weight (with Kickstand Case)