Pair your WAVE 2 with an EcoFlow DELTA 2, and you'll get an astonishing 7 hr run time in WAVE 2 Eco Mode. Compared to using other portable power stations, it's 28% more efficient. Experience longer-lasting comfort in your tent, RV, or home with its powerful and portable design.
The world's first wireless portable AC with a heater.
Fastest cooling and heating:
EcoFlow's tailor-made compressor enables WAVE 2 to provide 5100 BTUs of cooling and 6100 BTUs of heating.
Prepare for ultimate comfort with WAVE 2!
5 min of cooling from 30℃ to 20℃ (-10℃)
5 min of heating from 20℃ to 30℃ (+10℃)
The Gold Standard in cooling - 120% more powerful than industry norms
* Drop 10℃ from 30℃ for 10m³ in 5 min with 5100 BTUs of cooling,and raise 10℃ from 20℃ in 5 minutes for 10m³ with 6100 BTUs of heating in optimal running performance.
Installation-free!
The perfect air conditioner for any compact space!
It is extremely simple to use, requiring no installation or drainage*.
There are air duct adapters to fit any space. Enjoy the convenience of cooling and heating without any fuss.
* No drainage is needed in cooling mode when humidity is below 70%, but it is still needed in heating mode.
Peaceful snooze, quiet & long
With EcoFlow's advanced software algorithm, the WAVE 2 offers multiple modes and app control.
It runs quietly (44 dB) in Sleep Mode and up to 8 hours in Eco Mode.
Experience longer-lasting comfort in your tent, RV, or home with its powerful and portable design.
Make it a triple. Expand capacity.
With a capacity of 1kWh to start with, you've got enough energy for your essentials for hours on end.
Need even more?
Add on the DELTA 2 extra battery to reach 2048Wh, or add on the DELTA Max Extra Battery to hit 3040Wh.
Great for home backup or everyday appliances.
Power pretty much anything.
A 1800W AC output means you can power more than 90% of your home appliances.
That's your microwave, fridge, or even coffee maker covered in a blackout.
Or, try plugging in up to 13 devices at once when you're around the table with the family.
Unlike other brands, DELTA 2 can prevent overloading from devices up to 2200W thanks to X-Boost technology.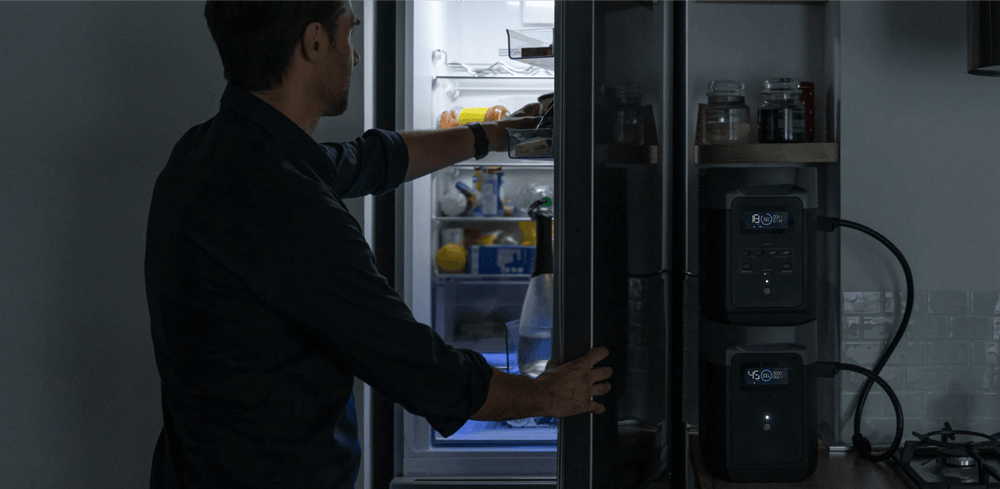 Specs of WAVE 2
Wi-Fi
This product supports 2.4G Wi-Fi only
AC Input
100-240V 50/60Hz, 820W max
Specs of DELTA 2
Extra Battery
Support one DELTA 2 Extra Battery or DELTA Max battery
AC Output
4 outlets, 1800W total (Surge 2700W)
Max Device(s) Power (with X-Boost)
USB-A Output
2 ports, 5V, 2.4A, 12W Max
USB-A Fast Charge
2 ports, 5V, 2.4A / 9V, 2A / 12V, 1.5A, 18W Max
Car Power Output
1 port, 12.6V, 10A, 126W Max
USB-C Output
2 ports, 5/9/12/15/20V, 5A, 100W Max
Cycle life
3000 cycles to 80+% capacity